Is the world exploding?
Or am I just biased?
USA, Hong Kong, Belarus, Nigeria, Thailand, Lebanon, Kyrgyzstan… Is 2020 the year of protests?
When I woke up I saw an article about Côte d'Ivoire in my customized Google newsfeed: chaos, protests, militias, deaths, and a potential civil war. "Classic", I thought. As if I had already read several similar articles this year. Is the whole world protesting in 2020? Or is it just me?
Maybe I'm biased. Maybe I notice these events more this year because I'm interested in them. Maybe journalists report them more. Or maybe because I read many articles about Hong Kong protests earlier this year Google now pushes me all articles about protests? I decided to check.
Wikipedia is the best source of information. When important protests happen somewhere a page is quickly created. Editors then categorize protests by year (for instance: "2020 protests"). Big protests have several articles, which are then grouped in a subcategory. The PetScan tool counts the number of pages in each category (and its subcategories). So this number gives an idea of the number and the importance of protests that happened each year, because small protests don't get a page, whereas big ones may have several pages.
Here are the results: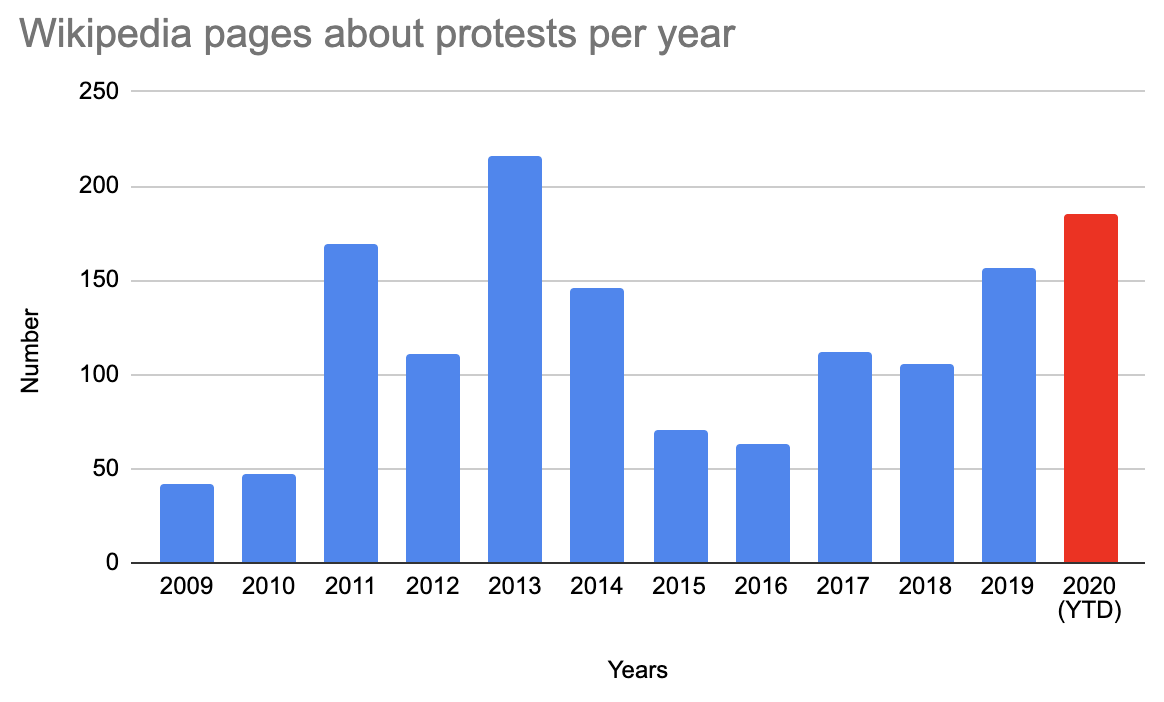 The average number of protest-related pages on Wikipedia was 113 from 2009 to 2019. For 2020, it's already 185. And the year isn't finished yet! If it continues like this, the number of pages related to protests on Wikipedia should reach 225 for 2020. So twice as many as the last 10-year average.
(If you wonder what happened in 2013: Euromaidan in Ukraine and the Egyptian coup d'état.)
The Global Protest Tracker from the Carnegie Endowment for International Peace also tracks "significant antigovernment protests". They recorded 55 events in 2020. Compared to an average of 33 from 2017 to 2019. (The tracker was created in 2016.) And again, we're still in October.
So I don't know if the world is exploding, but 2020 does seem to be special. It's a year of demonstrations with about twice as many important protests around the world as in a normal year.
Are protests the consequences of the polarization of our societies? Or the economic crisis? Is my methodology correct? What do you think? Subscribe and join the conversation!
Antoine